About

Affiliation with Lena Pope
The Marty Leonard Community Chapel is wholly owned and operated by the nonprofit organization, Lena Pope. Since 1930, Lena Pope has been a critical resource for children and families in Tarrant County, Texas.
Lena Pope believes that children are an asset with unlimited potential – deserving of investment. Their eight decades of history and experience in child and family services informs their current efforts to improve child well-being in Tarrant County.
Proceeds from the Marty Leonard Community Chapel are invested in evidence-based, research-tested programs that focus on the prevention and early intervention services that support child development and improve the behavioral and mental health of children and families.
Visit the Lena Pope website to learn more.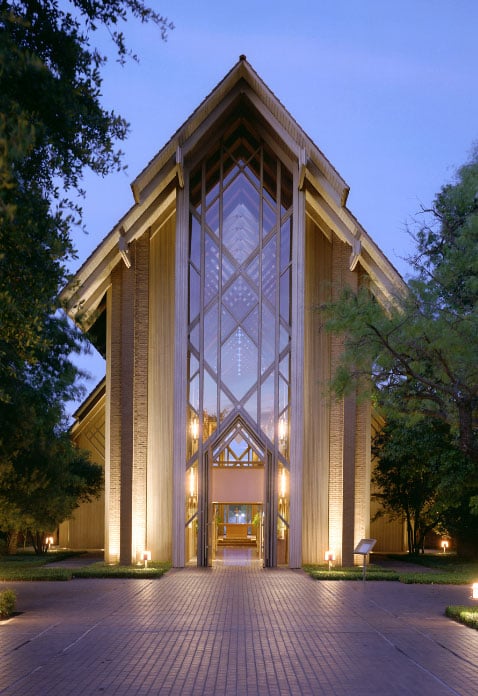 A Reflection of Love
HISTORY
The Marty Leonard Community Chapel is a reflection of love and gratitude for its namesake, Marty Leonard, and her instrumental efforts championing improvements for children and families within the Lena Pope organization for more than half of a century. She has served on the board of directors, twice serving as President of the Board of Directors and has been a leader in building projects, program delivery, long-range planning and fundraising for Lena Pope. In gratitude for her instrumental efforts, Marty's friends and family surprised her on her 50th birthday with the rendering of the chapel and partial funds for its construction. Building a chapel on Lena Pope's property had been a dream of Marty's for years. Fundraising for the chapel began in the 1980s, and over 300 donors contributed to realizing her dream.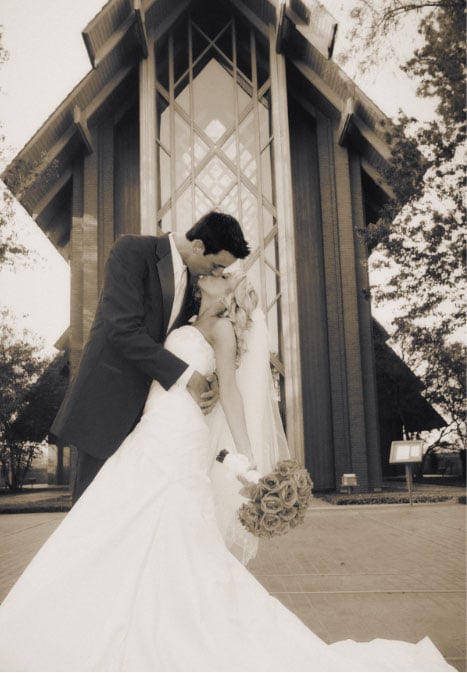 Premier Wedding Venue
HISTORY
The Marty Leonard Community Chapel was constructed on the grounds of Lena Pope beginning in the spring of 1989 to serve as an inspirational environment for the youth and families served by Lena Pope's residential programs.
As Lena Pope's programs and services evolved, the organization began opening the facility for public use. And, in the early 2000's, Lena Pope began actively promoting the Chapel as a premier wedding venue.
We are proud to say that the Marty Leonard Community Chapel has celebrated thousands of unions over the years and will continue to do so for decades to come.
the Architecture
VISITORS WILL
"think their loftiest and best thoughts."
Those are the words of the world-famous E. Fay Jones (1921 – 2004) who designed the Marty Leonard Community Chapel. And its magnificence unquestionably goes beyond any ordinary venue. Jones described his design as an "instrument for nature's music as light and shadows move and change throughout the day."
Born and raised in Arkansas, Jones expressed his creativity as a youngster by building tree houses in the backyard. He said his course in life was set at a young age when he saw a movie matinee feature about a building designed by the famous architect Frank Lloyd Wright. As if by fate's hand, Frank Lloyd Wright later became Jones' mentor.
After completing his education at the University of Arkansas and Rice University, Jones served his apprenticeship with Wright. His professional career was a combination of private practice and teaching at the University of Arkansas, where he served as chair of the Department of Architecture and dean of the School of Architecture.
In 1990, Jones was the 48th recipient of the American Institute of Architect's most prestigious award, the Gold Medal, presented to him by President George Bush. Jones' Marty Leonard Community Chapel gives Fort Worth the distinction of having structures designed by six Gold Medal winners — including Philip Johnson, Louis Kahn and I.M. Pei. Few modern-day architects have received the acclaim and respect that Jones received.
On April 4, 2009, the School of Architecture at the University of Arkansas was named in his memory.
Hours of Operation
We invite visitors to come experience the Chapel in person by appointment only at this time.
---
The Chapel is usually closed to the public on most

for weddings and other events.
IF YOU WOULD LIKE TO VISIT ON A FRIDAY, SATURDAY OR SUNDAY, PLEASE CALL AHEAD TO CONFIRM OPPORTUNITY.